Unloved Food in Amethyst Bowls by Atlantis Institute – Advice is abundant when it comes to What we eat is What we are. However, I have not come across any advice on the energy behind our food, its preparation and its presentation. Not to mention the Gratitude that we should exude when we are in the preparation process. Also, together with the energy behind that process.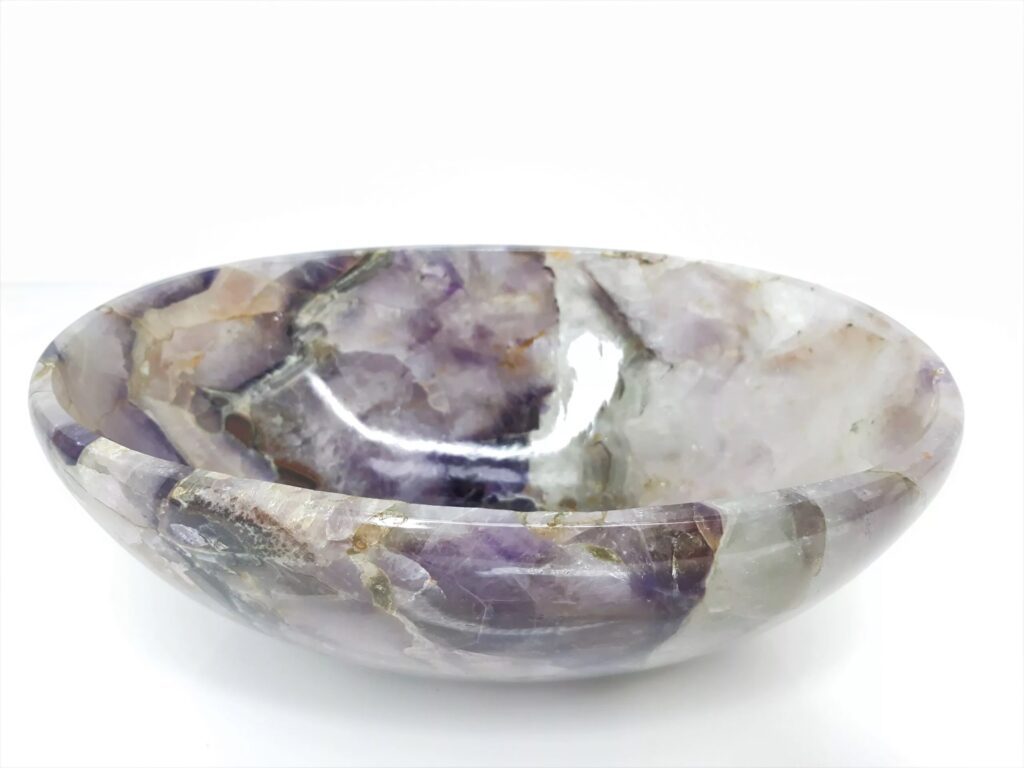 No matter if we can take the finest ingredients, the freshest produce; we can cook using the most expensive pots and pans in the most lavish kitchen. We can present those creations on the most amazing plates or bowls. However, the food ends up lacking taste, or slightly bitter, or simply not satisfying.
The Theory
I am the first to admit that there's no science behind this theory. However, two areas of my life have established my belief. My first realisation came when I was a child into my teens. I would see my Mum cook dinner for the family when she was in great form. The food was amazing. When she was in bad from the food did not taste the same. I did not realise any of this until later in life when I was involved in the hospitality business, where I had the pleasure of observing several head chefs, chefs, and cooks perform their creative duties with varying degrees of love and hate: What I have witnessed first-hand, combined with my childhood experience, is proof enough for me.
Passing On The Love
Over the years. I have come to realise that when anyone is cooking. They truly love cooking, something interesting happens when you watch that person at the cooker or range: The cook's pan becomes an extension of the cook, as you observe the seamless flow of creative energy, a passion and love for what they are doing, you begin to witness how the food itself becomes inseparable to the energic process. Positive energy flows in the energy field and brings to life the flavours of the food.
However, the same energic process applies when the cook does not like cooking or indeed if they hate cooking and it's just a chore. When you observe the cook with their pan, you can tell immediately that there is a disconnect, a block in the energy flow and it is clearly apparent as they work their pans on the cooker or range.
Love Does Change The Taste
When we love to cook and are happy cooking, the food will taste different. It will taste tasty, alive, and when we cook when we are depressed, upset, angry or not happy, then the food becomes a reflection of our mood, our own dark energies, causing the food to be average at best.
Interestingly, you cannot complain that the food is not fresh, or that the food is not cooked properly, or that the ingredients are incorrect because it is none of those things; it is more subtle and energetic.
Understanding Universal Energy
Now that I understand Universal Energy, I understand the human energy field expands beyond the human body to varying degrees of distance. This means that the emotions that start inside our bodies, in our minds and hearts, expand outside our physical beings and affect everything we touch and do.
Cooking should be a joy and not a chore, so if you are feeling under the weather, irritable or simply not on form, then postpone cooking until another time. Cooking should be fun and creative. You simply can't have fun or be creative while under a cloud!
No matter how powerful Amethyst is, it cannot turn unloved food or food cooking into the positive experience and effect it can be.